Overview
MessageGears Customers are now able to leverage Phrasee to optimize language within a Message and test variants. These variants are generated in Phrasee and can incorporate Campaign settings/recipient tokens to make them more relevant and personalized. This system integration is available through Phrasee Engage and Phrasee React.


Table of Contents
List of Benefits Available using Phrasee


Phrasee Engage
Phrasee Engage works by taking user input information (customer data, campaign goals, etc.) and then works to produce and deploy the copy that is most likely to engage target audiences across email, push notifications, and SMS. This can help with increasing open rates and click-through rates.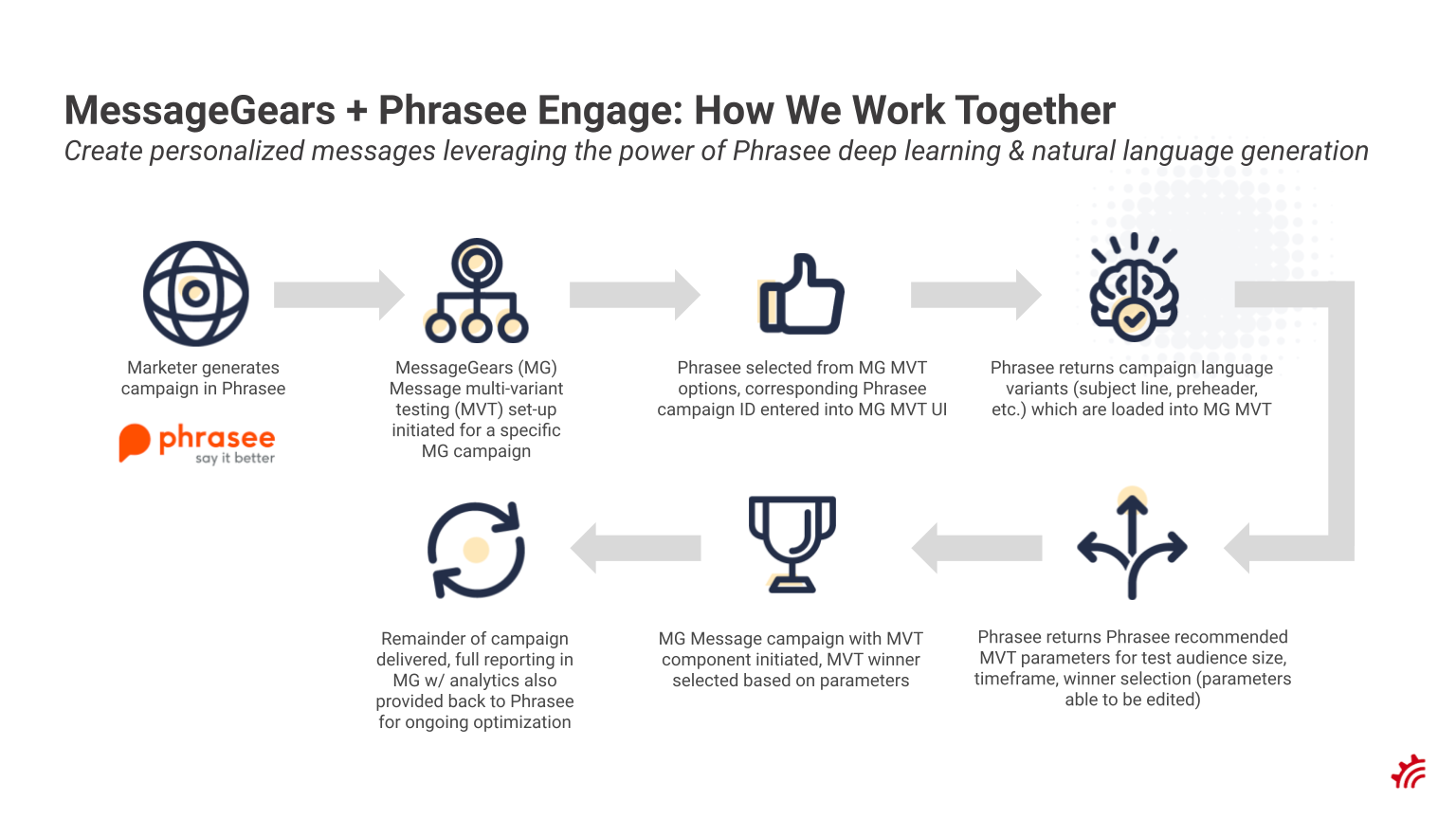 Phrasee React
Phrasee React works to help marketers get more value from their trigger campaigns such as abandoned carts, special events (like birthday and customer anniversaries), and program milestones (like new members, or a rewards status). Once a Campaign is live, React will be constantly optimized in the background, and will continually search for more ROI.
Benefits of Phrasee
Once variants have been generated they are then accessible through multiple methods (download via UI, Campaign API and Real-Time API). Integrating the Phrasee language variants allows you the usage of Phrasee services can provide a significant engagement boost for your Campaign. Marketers can leverage Phrasee today via copy-n-pasting the Subject line/Template variants into an MVT Campaign.
Important Note: Using Variants can become very technical and timely, and any changes to variants require updates to the MVT. Additionally, all delivery/engagement must be posted back to Phrasee to influence future language variants.
List of Benefits Available using Phrasee
1. Allows users to use Phrasee React as part of a Template Subject Line
2. Updates Previews to Display Phrasee powered subject lines
These features are available for Template/Transactional Campaign Previews and Marketing Campaign Previews.
3. Update Marketing and Transactional Campaign to be aware of Phrasee Templates
Marketing Campaigns
Once a template is selected, display the current Phrasee settings for that template if applicable
User should be able to overwrite those settings for the campaign launch
When Phrasee React is toggled, is the template available for MVT Testing?

Phrasee powered templates should be fully available for Subject Line and Template MVTs
Transactional Campaigns
Once a template is selected, display the current Phrasee settings for that template if applicable
User should be able to overwrite those settings for the campaign launch
4. Updates Rendering to use Phrasee
5. Sends Phrasee React Metrics back to Phrasee
These metrics can include:
Number of recipients delivered
Number of unique clicks
Number of unique opens
Number of unique unsubs
Each metric can be published individually